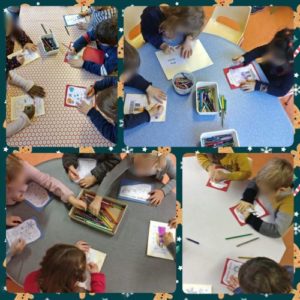 Hello everyone,
I hope you are all well and looking forward to the upcoming holidays.
I have had fun teaching the Children about Christmas.  With the Grand Section groups I spent some time learning some Christmas vocabulary; Christmas Tree, Santa, Reindeer, Present, Angel, Snowman and Elf.  Once the children had learnt to vocabulary, they made Christmas cards to take home.
With the CM2 classes, after a few weeks of learning to tell the time in English, and starting to learn some basic English grammar (have got) the children were happy to have a more 'fun' English lesson practicing their Christmas vocabulary, and making an origami Christmas tree or paper lantern.
I have added several Christmas themed activities to the Google drive folder for you to look at over the holidays.  There are some craft and baking ideas to do as a family, and some colouring in and activities of different levels for your child to work on alone or with help.  You can choose the activity which you feel best suits your child's level, or let them choose what they would like to do.
I have also put some Christmas e-books on YouTube which you can listen to with your children.
Wishing you all a very Merry Christmas, and a Happy New Year.
See you next year,
Clare